Top 5 interior styling tricks for any room with Gina Ciancio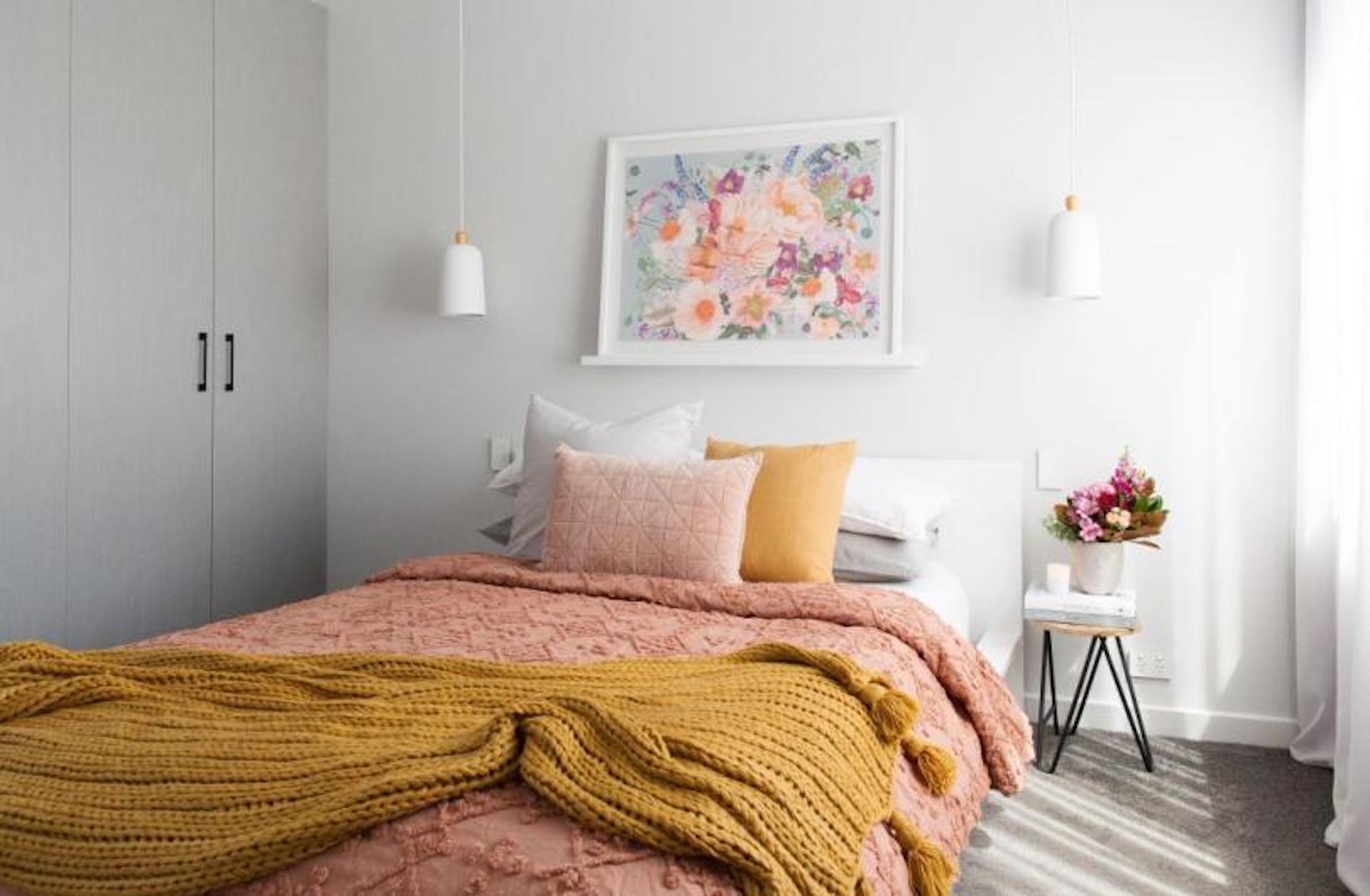 1. Establish a colour palette
One of the quickest ways to take your interiors from average to amazing is to hone in on your colour palette.
There are many ways to create a successful colour palette. One of the simplest and most popular colour schemes for interiors at the moment is to use a 'natural' colour palette. It's a timeless look that's become more popular recently with the earthy and coastal trends. A neutral colour palette has a base of white, beige, warm grey or brown hues. For added interest, you can also inject accent colours inspired by nature. For example, sage green, dusty pink or ebony.
Another easy way to establish a colour scheme is to embrace a monochromatic palette. While you often hear 'monochrome' to describe a black and white colour scheme, it actually means single colour or hue. So you could pick any colour from the colour wheel, such as green or pink, and then play with various tints and shades.
For a more colourful interior, a complementary colour scheme is a popular choice. This is where you combine colours from opposite sides of the colour wheel, such as blue and orange. From these two opposing colours, you can build a colour palette by using various tones, tints and shades.
Another colour scheme to follow is an analogous colour palette. It's one of the easiest colour schemes to create as you simply use three colours that sit next to each other on the colour wheel. For example, yellow, orange and red for an autumnal inspired colour scheme. An analogous colour scheme creates a harmonious and serene look.
2. Add layers
Simply put, layers equals styling confidence. Whether it's draping a throw over the foot of your bed for a more sophisticated bedding look or using a tray to anchor smaller accessories, there are endless ways you can add layers to your styling.
Top ways to add layers to enhance your interior styling:
add a rug or layer rugs on the floor
drape a throw over your sofa, armchair or bed
layer your interior lighting by embracing lamps
add depth to styled arrangements, for example lean an artwork behind a vignette or cluster various objects – it's ok if you can't see everything in full
use a stack of books or tray under a styled arrangement as a base, such as on your coffee table or sideboard
add texture and colour to you walls using artwork, wallpaper, wall hangings or other elements of interest.
3. Use luxe elements
It's OK to have champagne taste on a Passion Pop budget… the trick is knowing where to splurge to create luxe highlights.
Accents of brass or metallic of your choice, using quality scents (such as luxe soy candles or diffusers) and some natural décor (like natural stone trays) are easy ways to add a hint of luxury without breaking the bank.
You can also elevate the appearance of more affordable pieces, for example by switching regular cushion fill with feature inserts for a fuller look.
When splurging, be sure to do it on items that will be front and centre, such as on your coffee table or bedside table. That way you can appreciate them to the fullest!
4. Embrace greenery and life
Look at all your favourite interior images and I'm betting you'll spot an element of 'life' or greenery in each one of them! That's because greenery makes any space more aesthetically pleasing.
My favourite ways to add greenery and life are with indoor plants or simply foraging for fresh branches from the garden. You can use any 'living' elements though for a similar visual impact, such as a beautiful floral arrangement or even a bowl of fruit.
5. Create rhythm and repetition
This ties into my first tip on honing in on your colour scheme but there are many ways you can create repetition in a space. For example, repeating patterns or shapes also works well to create a sense of continuity and cohesion.
It's best to spread out elements of repetition so that it guides your eye across a room. By this I mean, do not cluster all of the colours or prints in one spot, such as on your bed or sofa. Instead, look at how you can sprinkle these accents across a room. Some ways to do this are through artwork, items of décor, floor rugs and so on.
By using 3 to 5 pops of the same colour or print around a room, it will create that sense of cohesion you want.
Back to news