How to style a sideboard, console or hall table: Home décor to use and top styling tricks
Sideboards, consoles or hall tables offer the perfect surface area for a styling opportunity. Whether in your entry, dining, hallway or living room, let me share with you simple styling tricks to create a look you'll love.
I run through the key items of home décor to use and my top interior styling rules. So whether you're starting from scratch or just looking to change things up for the season ahead, keep scrolling for latest sideboard styling inspo thanks to Canberra Outlet.
Related article: Tips and tricks to styling your coffee table with ease
Related article: How to style a bookshelf
Anchor the furniture with artwork or a mirror
Firstly, before you pick up anything to place on the sideboard, look at the wall above. A hero piece of art or a mirror will anchor the item of furniture and create a focal point.
If you're renting, don't despair. There's a fabulous range of damage-free adhesive hooks and picture hanging strips on the market now. Or you can simply lean the artwork against the wall as I've done. This stunning abstract painting is from Freedom and sets the tone for the earthy look I'll be creating.
Tips to using art or a mirror above a sideboard:
art doesn't have to be in a frame. You can get creative and use a wall weave, hanging tapestry, sculptural wall art, juju hat, or anything else that speaks to you
why not use more than one?! Hanging two complementary artworks side by side, or creating a mini gallery wall looks fabulous
break up the symmetry. Don't feel you need to perfectly centre your artwork. You'll see mine is slightly off-centre and if you have a longer piece of furniture, you can exaggerate the look further. Asymmetrical styling is less formal and more modern.
 

 
Introduce a high element
Every sideboard or console table needs a high element. Fact. Why? Because it creates visual impact.
Generally, I'll use a table lamp or vase with fresh stems. But you could also use an indoor plant or a large vessel, such as those urn-style vases that are trending right now.
For a formal and traditional look, it's popular to use a high element on either end of your sideboard. For example, matching table lamps to flank the sideboard. Or a little less traditional would be to use a table lamp on one side and a tall vase of a similar scale on the other end.
Personally, I prefer an asymmetrical look, so I've used a fluted table lamp from Freedom on one end and two timber candlesticks from Focus on Furniture on the other.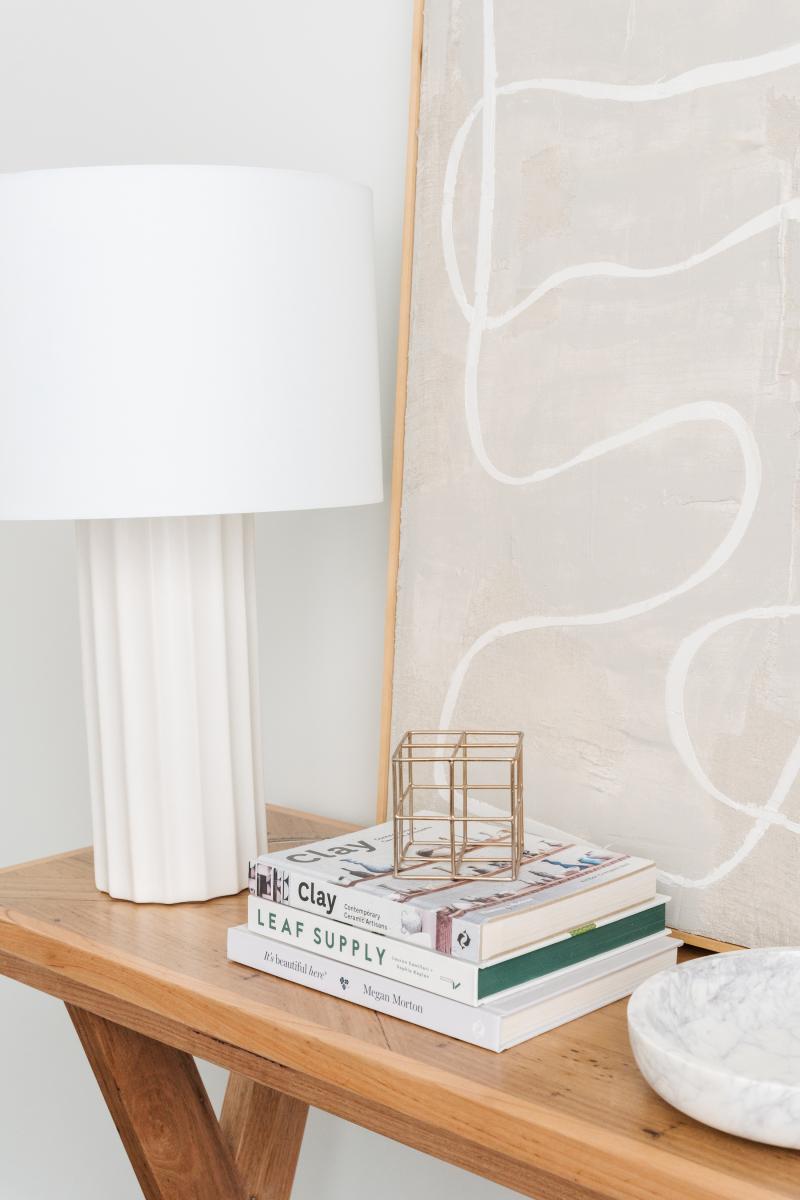 Balance with a low and wide object
Offset the high element/s with a low and wide object. This will bring a sense of visual balance to your styling.
You can't go wrong with a tray or bowl, which looks beautiful and serves a functional purpose. Perfect as a catch all tray for your keys or wallet, or to act as a base for a styled arrangement on top.
Another idea is to use a stack of books. There's something about books that are so homely. Plus, it's a great way to personalise your home by selecting books that reflect your passion or hobbies.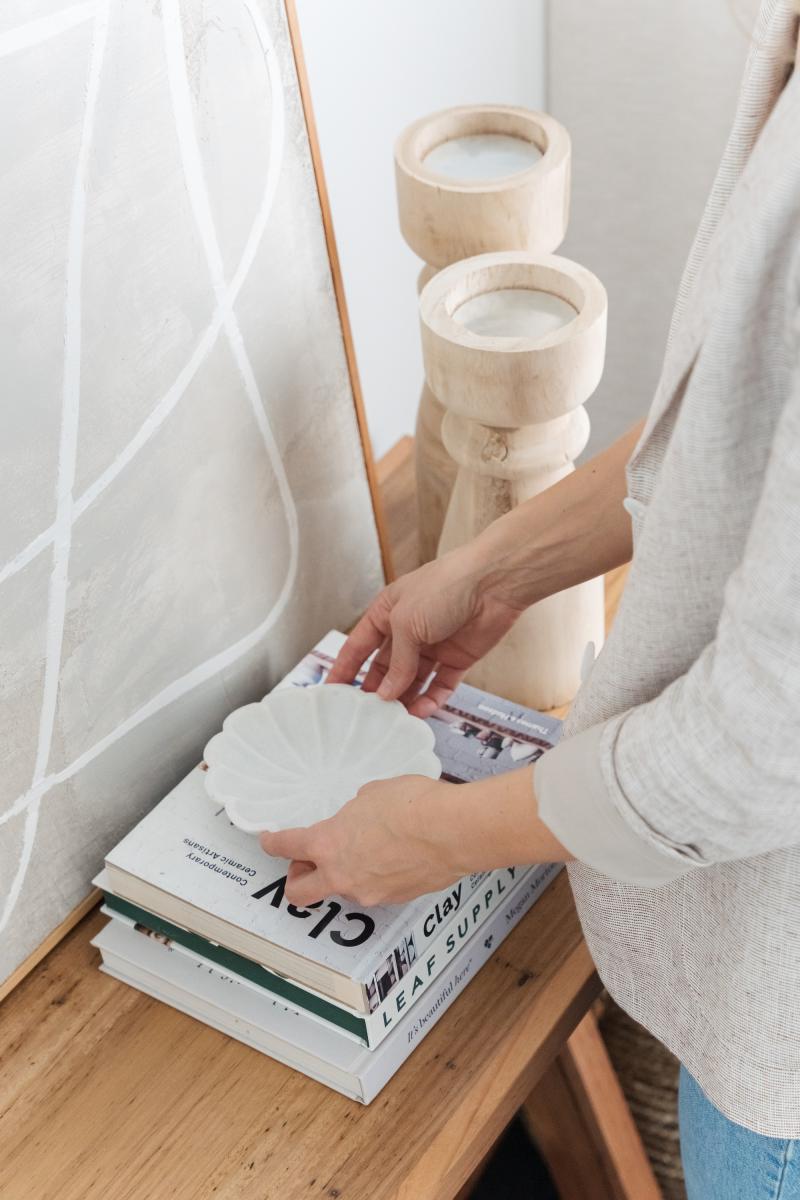 Play with different décor
Now that you've got the styling staples, you can have some fun with décor. Less is more and I typically don't suggest using more than 3-5 home accessories on a sideboard or it can start to look too bitsy.
If you're looking for ideas on what you could use, check out our round up of the top 50 items in home décor.
Some of my favourite objects to use on a sideboard include:
a ceramic vessel
candle (especially with a glass cloche over the top)
crystal.
 

 
Inject your personality
The last thing any of us wants is to create a home that feels like a showroom. I'm all about encouraging people to personalise their homes.
Why not frame a beautiful piece of art your children created or display a family photo?
This bone inlay photo frame from Early Settler is like a piece of décor in its own right and would look beautiful with a black and white family photo inside.
Otherwise, displaying one or two sentimental items, such as pieces you bought while travelling, is another way to personalise your sideboard styling.

 
A basket is always a good idea
Finally, the floor space below or next to your sideboard, console or hall table offers another styling opportunity. One of my favourite items to use here is a large woven basket. In the living room it's perfect for storing spare blankets or in the entry, you can hide your garden shoes inside.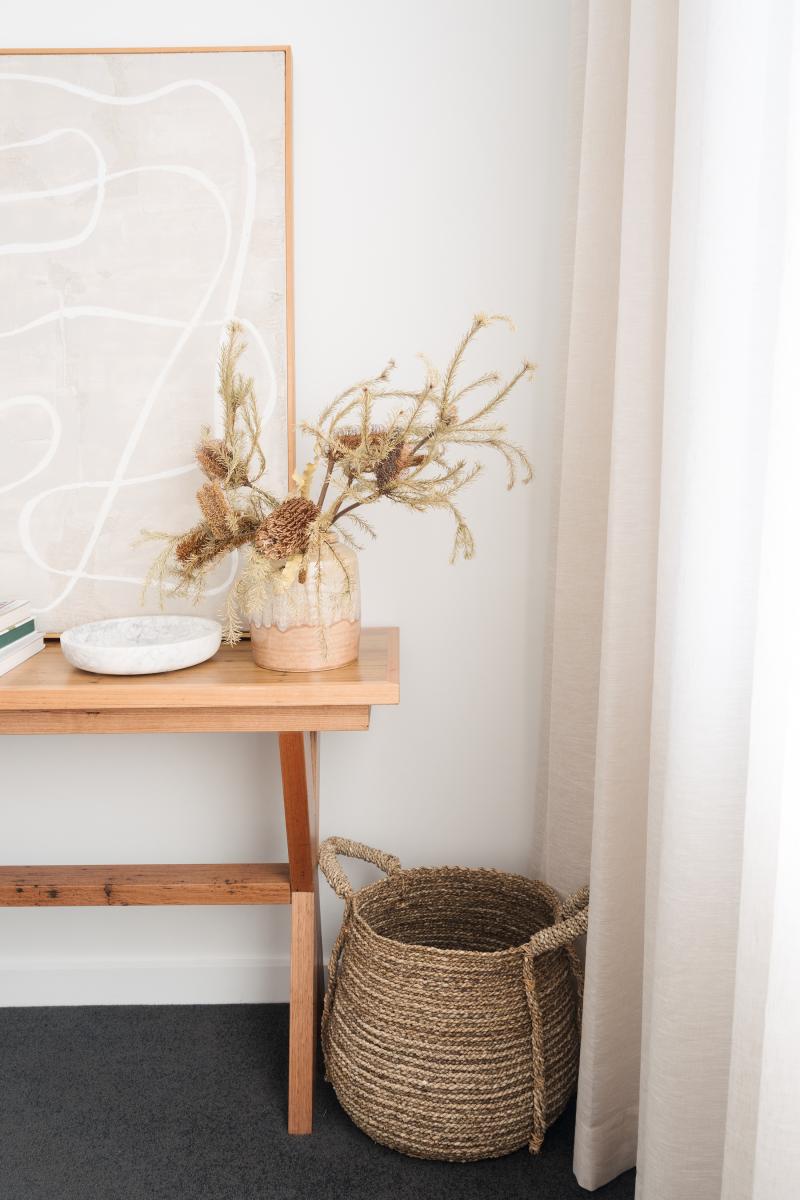 Top sideboard styling rules
Now that we've run through the main items of home décor to style your sideboard and how to use them, let's finish with a few styling rules.
Look for colour or pattern references
You know I'm not about creating matchy-matchy looks but using some repetition of colour, shape or pattern across your sideboard can seriously elevate the look. Consider picking out one or two colours from your artwork and referencing these in your décor.
Incorporate some form of 'life'
Using items of life, such as an indoor plant, piece of coral or crystal, creates a connection to nature. And natural elements are proven to have a grounding and balancing effect. So not only are they beautiful and soften the look of your sideboard styling, but they also have a health benefit. What more reason do you need?!
Remember the rule of 3
I mentioned adding décor above and a fool-proof way to do this is by creating an arrangement of 3 – one tall, one medium and one low object. This works well if you want to create a small arrangement on one side of the sideboard. For example, a vase of flowers, a decorative bowl and a candle.
Give it some breathing room
As with all styling, I suggest standing back and editing the look. Is there too much going on? Can you remove some items to offer some 'breathing room'? Less is often more so avoid cluttering the sideboard with lots of items.
Layer, layer, layer
Despite what I said about not over-cluttering your sideboard, something I do recommend is layering. Layers add styling confidence and can make your sideboard look more lived-in and relaxed.
For example, placing a smaller item of décor on top of your stack of books, or leaning a smaller artwork against the wall where a mirror is hanging. Basically, you do not need to see everything in full, it's ok if some things are obstructed slightly as this will create a sense of depth.
Back to blog